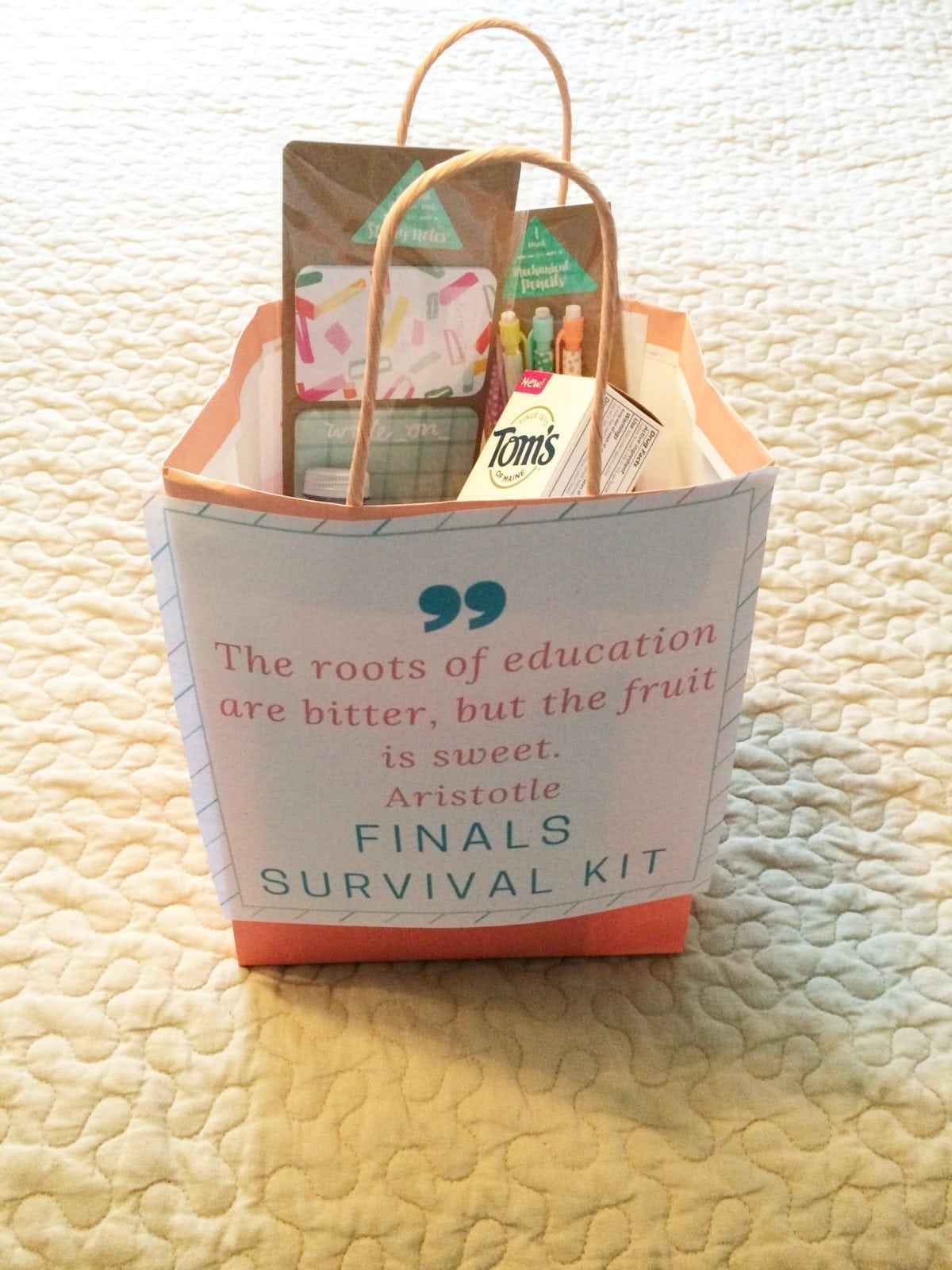 It is that time of year when students everywhere are preparing for finals and end of school year assignments. I don't think it matters if you are a teenager or an adult- finals can be stressful! There are late hours  of cramming, countless nights at the library and probably a little too much caffeine happening when studying is involved. Who wouldn't enjoy receiving a little basket of love to help them during those tough days and weeks leading up to the end of the semester?
Today I have compiled a fun list of ideas of things you could put together to give to the student in your life who might need the boost or encouragement. It might even be just what someone needs to help them remember to take a break and have a snack or get up and stretch their legs! Here are my top ten must haves for a  "Student Survival Kit". You can get the free printable for the kit here.
Finals Survival Kit
This is a sponsored post written by me on behalf of Tom's of Maine for IZEA. All opinions are 100% mine.
1. Chapstick This is a must-have item. How often are you up late and your lips start getting chapped or dry? This will be something that can be used even after finals are over.
2. Water/Drinks Packing a basket with a fun water bottle or even a plastic water bottle will definitely make someone's day. Staying hydrated is so important no matter what you are doing, but even more so when  you are staying up late, and working hard. It might be fun to even throw in a some individual water flavoring for added  enjoyment.
3. Toothpaste
Hear me out. Giving someone toothpaste might seem socially awkward- but for  the student who might be up late at night, or runs from work to the library or who grabs fast food before hitting the books- it will be much appreciated!
There is something so refreshing about brushing your teeth and it can help wake anyone up and help them get ready for what is ahead of them. I love Tom's of Maine Luminous White Toothpaste. It is the most advanced natural whitening toothpaste and it is gluten free! It has a great flavor that is not too overwhelming.
Even better is that it can be found at Target- any excuse to go to Target is a win in my book. This and other Tom's of Maine products (such as North Woods Men's antiperspirant or Wicked Cool! deodorants can be redeemed with a  cartwheel offer.)  It was recently Earth Day, which always makes me want to try and be a little more eco-friendly – and Tom's of Maine does just that. Also, don't forget a toothbrush!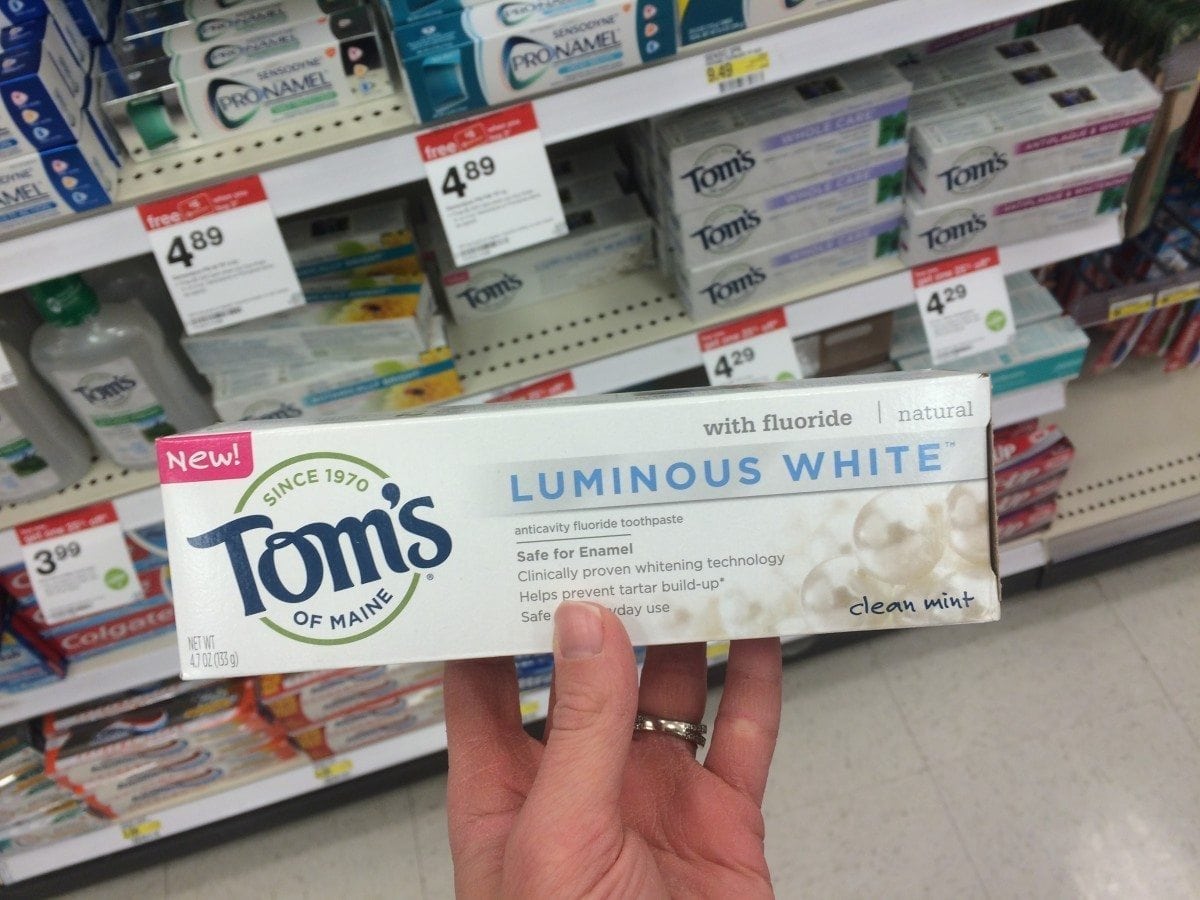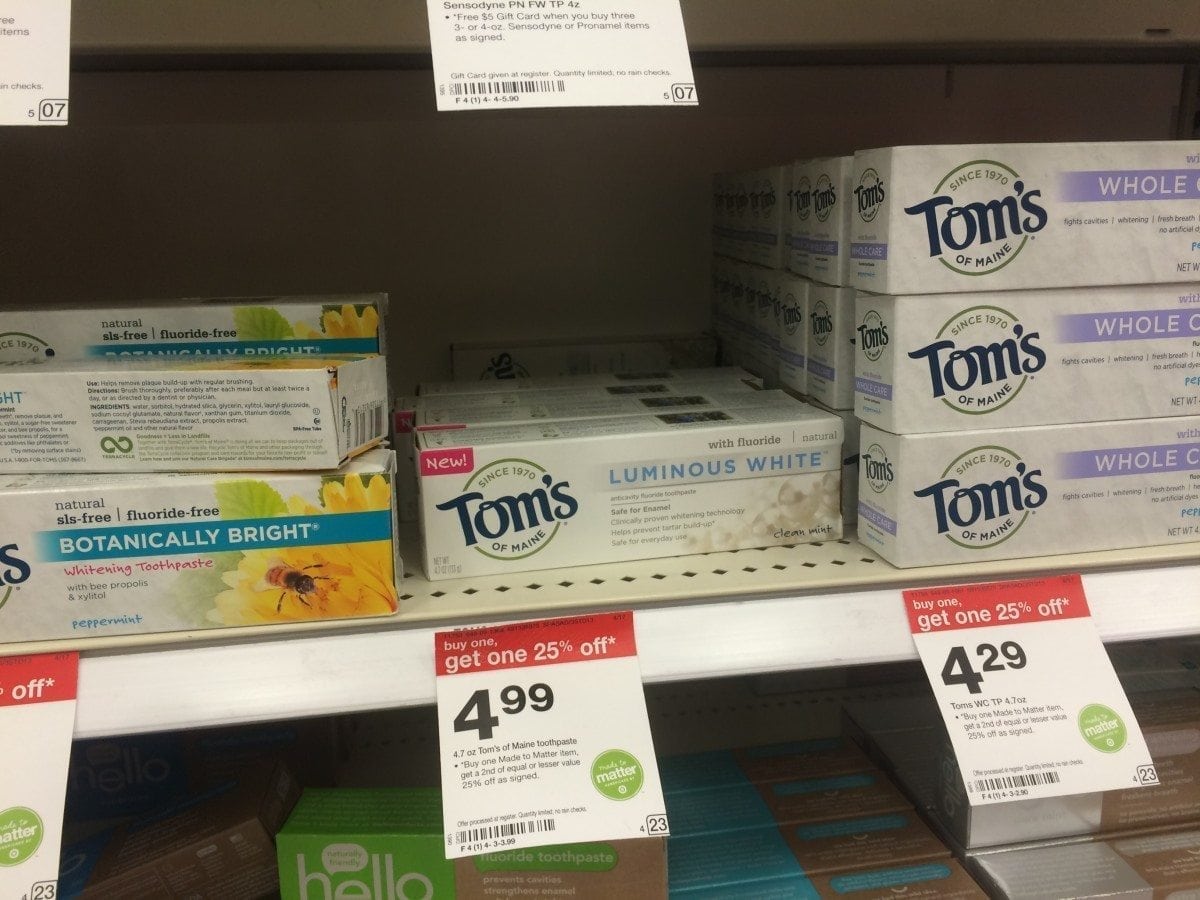 4. Snacks If you are hungry, it can be hard to concentrate. And if you are studying, you might not want to stop what you're doing to find food. Sticking in some easy, and quick snacks will make it easy for someone to continue to study  while fueling their body. I would suggest staying away from the super sugary treats, and sticking to snacks that will help sustain the body for the long hours they will be putting in. Things like nuts, fresh fruit, oatmeal cups, or granola bars are great ideas!
5. Gift Card
No  matter how much studying someone has, they have to stop sometime. A fun gift card to a local coffee shop, or fast food restaurant will make for  a fun treat just when they need it most. It can be as little as five dollars- just enough to get a drink or a small bite to eat. It could even be used an incentive to be used after their finals are complete.
6. Cute socks
This is a fun gesture to help someone feel more cozy in their surroundings. You can find fun socks at any store and they aren't too expensive.
7. Sticky Notes
Sticky Notes can be so bright and cheery and helpful when writing notes or keeping track of a busy schedule. And it is something anyone can use any time of year as they will really come in handy after finals as well.
8. Stress reliever
This could be a hand held massage tool, or a stress ball, something to do to in between breaks.
9. Pencils There is nothing worse than running out of pencils when you need them most. Stock up your favorite student with a pack of pencils and maybe even a hand held sharpener and you will surely make their day.
10. Tylenol Just in case! Sometimes studying under a dimmed light can cause headaches, and sitting still for so long might bring on muscle aches and pains. Having some pain relief medication on hand could really come in handy. Once you've gathered together, assemble it in a cute gift bag or basket and deliver it to that special person.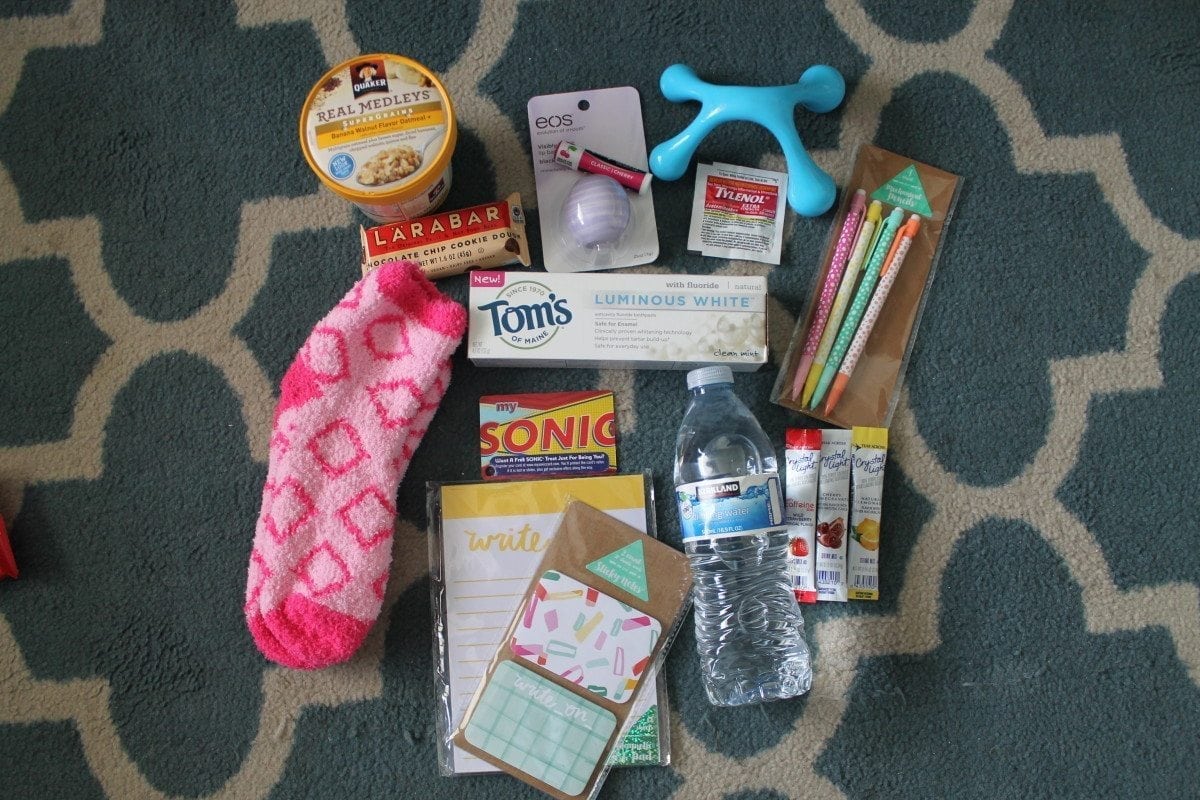 No matter what, you will brighten someone's day with this fun  Finals Survival Kit! As I mentioned earlier, by including eco-friendly products, you can encourage your student to be little more mindful about the world around them, and the products they put in their body. I know that when I was in college, the last thing I was thinking about was Earth Day, and incorporating natural products into my life (anyone else?!) I think this is a great opportunity to give your student a little push toward having a little more eco-friendly of a life. By getting them hooked on products like those from Tom's of Maine, they will hopefully continue that pattern throughout the rest of their life. And let's be honest, if you are sending them a package, why not include the best of the best and help save the planet at the same time?!