If you are in college, you may run into the dilemma of entertainment or saving money (or paying your rent). Here are some of the best student deals for streaming movies, TV shows, and more to help you save a little bit of money!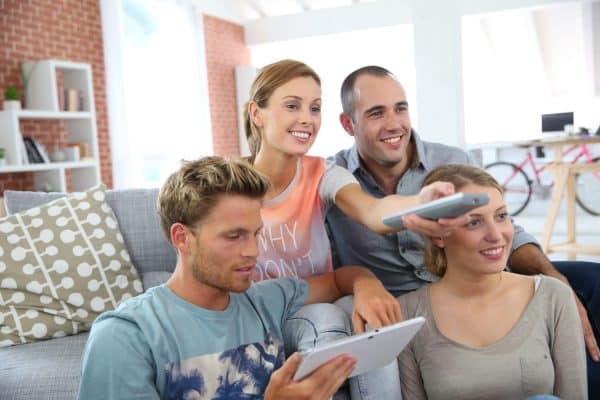 For many, college is challenging because of a lack of money and a lack of space. College students are forced to share rooms, apartments, bathrooms, and lots of other stuff. The idea is to sacrifice in the present for a brighter future.
It can be hard to be all work and no play so here is my guide to streaming movies, television, music, audiobooks, and more. Streaming on your mobile devices while listening to headphones is a great way to escape to your own little world.
We have gathered together different streaming deals for college students to help you make those choices a little more accessible!
In this post, we will discuss the following services. Be sure to let us know if we've missed one that you love!
Prime Student is a special Amazon Prime membership for students. It has a ridiculously long six month free trial, and it is only 50% of the standard Amazon Price after that. Prime Student includes Prime Video, Prime Music, Prime Reading, Prime Delivery, Amazon Photo, and exclusive student deals. Students can also get Amazon Music Unlimited for $.99 a month.
The Spotify Premium Student Bundle is an amazing deal with a three-month free trial. Three months is pretty good. It includes Spotify Premium, ad-supported Hulu, and SHOWTIME. After three months, the bundle is only $4.99 a month. You can cancel anytime.
For $4.99 a month you can get a lot of great music ad-free, plus you get Apple TV+.
CBS offers a 25% CBS All Access discount that includes lots of CBS shows, live CBS streams, and CBS original shows.
Audible is $9.99 a month, which is a 30% discount. Plus, you get a $10 Amazon credit. Aren't college students supposed to be reading a lot, haha? With Audible, you can get a high-quality audiobook every month, and if you don't like your book you can switch it out.
After a 60 day free trial, Pandora Premium Student is only $4.99 a month. You get ad-free listening and offline music. You can create and share your playlists.
Sirius XM is a satellite radio that can be streamed. Students can get Sirius XM Premium for $4 a month. Sirius XM has a wide variety of content, so there should be something for everybody. You can check out the details here. We love SiriusXM!
A wide selection of ad-free music. The student price is only $4.99 a month after a one month free trial. Google bought YouTube, so I wouldn't be surprised if they pride themselves on helping people find what they're looking for and will like.
Tidal is a music streaming company that emphasizes high fidelity audio streaming options. Students can get a thirty day free trial, after which they can get a 50% discount on their subscription tiers.
The New York Times offers students a one month free trial, after which access to all of The New York Times content is $4 every 4 weeks.
Free Resources
Free resources for movies and television are often free due to a lack of demand, or are funded by commercials. Free content usually means older and less main stream, which might be just what you're looking for.
I have found several exceptions to the rule, and I've been surprised by content that isn't very old and seems rather popular. I imagine them to be like doorbuster sells, that get people in the door to watch commercials on their other content.
Below are free resources specifically for college students.
The College/University Library
The university I attended did have a limited selection of movies and television to check out. It seemed to me that some of it was intended for film majors, but some it seemed to be for a broader audience.
I'll mention that my University had free showings of foreign film semi-regularly, so that might be the case at your school. Our on campus theater was super cheap, but the lines were always crazy. I didn't bother.
Additionally, your college/university might have a partnership is a content provider. I remember that I could get WatchESPN on campus when I was in college, and I know some offer HBOGO.
Local Public Library
I know transportation can be an issue for some students, but your local library is a great resource for free entertainment.
I had a kid while in college, so I used our local library for children's books. I can still picture my two year old surrounded by pages of a Thomas & Friends book. I did not want to have to pay for that one.
Libraries have movies, television shows, music CDs, audiobooks, ebooks, and more. Sometimes they partner with sites/app to make their audiobooks or other digital content available online. This can make transportation less of a barrier for students to use the library's resources.
A lot of libraries use a site/app called Hoopla, that allows card holders to access their movies and television shows online.
Kanopy.com is a site that students can access for free to watch thoughtful movies.
A general tip, a lot of streaming content providers offer free trials. Consider taking turns with your roommates. Don't forget to cancel!
To get a general list of free content resources click here.
Other Streaming Posts:
At Clarks Condensed, we love streaming! Here are some other posts we've written that might be interesting to you:
More College Posts You May Enjoy: