College students love board games! Game night will be a hit with any of these card and board games that are perfect for college students.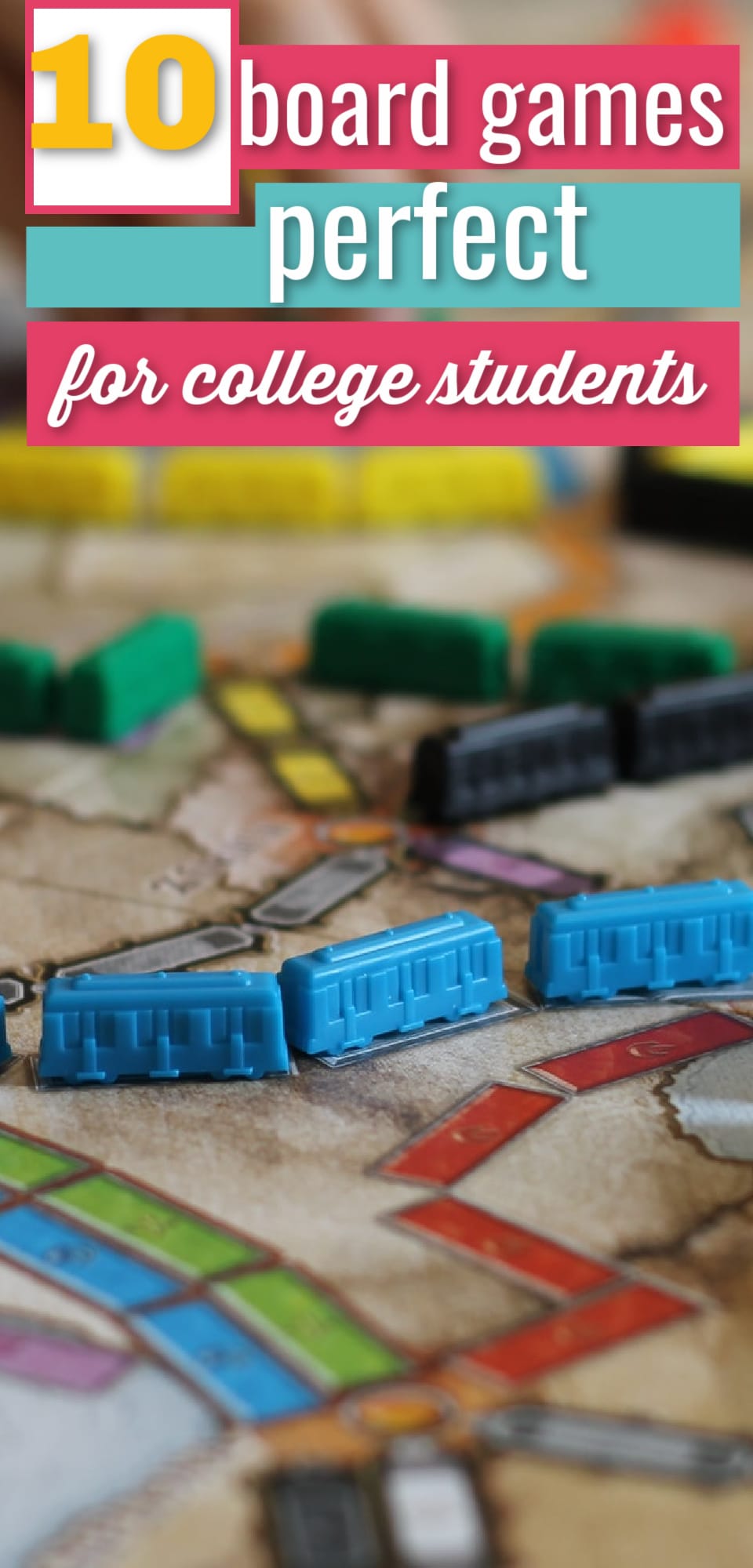 Let's be real: we've all gone to game night.
Whether we've hosted it at our place or gone over to friends, games are an easy way to bring people together. Board and card games can accommodate a decent group of people, so whether you want to team up with a friend or play solo, there's room for everyone to play.
College exposed me to a lot of different games and has helped me have a greater appreciation for them. Game night is a simple way to throw friends together for a good time!
It also lets you see a side of your friends you might not otherwise see (we all know a competitive friend…or we are that friend 😉).
Many of these games are found in stores like Walmart, Target, or can be bought online from places like Amazon. These are common games that are popular for good reason!
Whether you're into board games or card games, here are a variety of games that will stimulate your brain or make you laugh your head off.
This is a list of 11 of the best games for those in their late teens to mid-twenties. From classic board games to less conventional ones, you'll find something that you and your friends will enjoy.
This game is a classic for many. Settlers of Catan revolves around the players becoming settlers of an island known as Catan. Creating infrastructure (settlements) helps you rack up points, with the first person to 10 points being crowned winner. The downside is that the usual game accommodates only 4 players, with the extension option letting you play with 6. This might be reserved for smaller game nights and closer friends, but this is a beloved board game for college students.
Having been released in 2016, this is one of the newer games. For those who aren't familiar with it, it isn't tricky to learn. Though it's name might be intense, this is a pretty light-hearted game. Teams are split into two factions: the fascists and the liberals, with one un-lucky player being deemed the secret Hitler. Teammates work their way through the game eliminating people, in hopes of rooting out Hitler. Careful though, you may find yourself quickly turning on your teammates.
I had heard of this game for a while, but finally played it during quarantine. Phase 10 is a super fun card game that requires players to create sets of cards to progress through each of the ten rounds. Like many games, the more people–the longer it takes. Still, it's a flexible game that allows for players to fall behind and comeback. You'll find yourself getting immersed into it pretty easily. It's a perfect option for those opting for a card game instead a board game.
Another card game, this one is tailor made for those who are college-age. Marketed as a "a millennial card game for millennials and their millennial friends", this is a game that many millennials and Gen Z love. It's packed with well-known memes and is always so funny to see what captions are paired with which pictures. Some cards are more adult themed, so that's important to keep in mind. However, there is a family version available for purchase too.
This is one of my favorites! Regardless of artistic ability, Telestrations is usually a hit with groups and each box of booklets can accommodate 6-8 players (depending on which size of the game you have). Telestrations is meant for each player to draw an object or phrase and then have the next player guess what it is. The next player then draws what is written and so on. It's a visual game of "Telephone" and it never fails to make me laugh when I see how skewed our original Telestration becomes.
This one is great to bust out with a lot of people. Codenames can be played by up to 8 people. Each team works tirelessly to guess codenames by having a team member give hints without helping the other team. It's perfect for when you have more friends over and want something everyone can play.
This is a fan favorite! Ticket to Ride is all about drawing cards and trying to build railroads across the map. It combines luck and skill and is fun to play with friends. I love games that require some brain power but aren't complicated. The classic version covers the US and Canada, but there are tons of versions for those wanting a more exotic geographic location.
A friend recently introduced me to this game and I thought it was pretty fun! Card games aren't for everyone, but this has a simple premise. Each player has twelve cards that they continuously try to trade for cards with a lower number. The goal is to have the lowest number of points possible. It's easy to catch on to, making it perfect for beginners.
This is great for large groups! It's like scrabble but with a little more freedom. The larger double pack can be played by 16 players! The rules are simple but it definitely gets your gears churning.
This game has a party pack option that can seat 10 players! That's huge for a card game. For those with the regular edition, you can still play with 4 of your friends. This game is super simple, with the goal of the game being to use cards that will defuse the kitten from exploding…yup. It's a weird one…but a nice change from the usual.
This is one of my all-time favorite games! This reminds me of Apples to Apples but with more creativity. Players will answer a question and then one person will have to guess who said what. It turns hilarious so fast and is a great game for close friends who really know each other. You can also use the cards + your own paper to play with as many people as you'd like. It's a funny game and will leave you walking away with new inside jokes.
These games are just the tip of the iceberg! There's always a steady flow of new games, but these are some prime options that college students will love and relate to.
More College Posts You May Enjoy:
More Game Posts: