In the age of smart phones and iPads, the market for making apps for college students is booming. It was toward the end of my college career that tons of helpful apps started popping up, and I was able to use a few. There is seriously an app for just about everything you can think of that a college student could need — fancy digital planners, apps to learn a language, online storage, and more.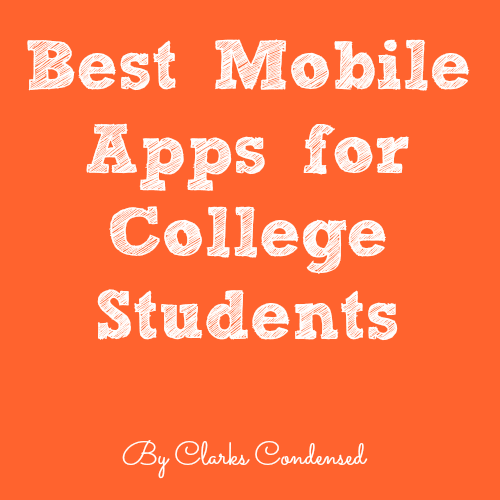 University-made Apps
The first thing you should do is find out if your school has any mobile apps they have created for students. These apps are often chockful of information specifically for your school. For instance, BYU has a great app that has tons of information, right down to information on the vending machines on-campus!
Productivity
PDF Scanner: I didn't buy a printer when I started college that had a scan function, and I so wish I had. It is amazing how many things ended up needing to scan. And now, you don't need anything more than your smart phone or tablet. I have used both of these scanners below (one on my phone and one on my iPad) and they work amazingly well. Best of all, they are free, and you can share the files in a variety of ways.
Google Drive (free): In the last half of my time in college, I used Google Drive for everything — writing my own assignments, collaborating with others, and opening documents from professors. If you can't afford Microsoft Word, this is definitely a great alternative, and it really is the best way to work with others on projects. With that said, if you plan to use Google Drive often, definitely download the app. It actually comes in handy rather often. Available on iOS and Android
Evernote (free): I actually have never used Evernote, but I keep meaning to. I've heard great things about it. You can literally save everything you see and hear to Evernote; it's great for lectures, researching, or even as a daily journal. It is a great way to stay organized with classes, or even work with others on projects. If you find some useful web page, all you have to do is use the toolbar add on to "clip" it, and save it to your Evernote account. It is available on computers, as well as on mobile devices, and everything syncs up beautifully. I'm downloading it now! Available on iOS and Android.
Notability (2.99): This is a great note taking app, as it goes beyond the simple notepad apps that come pre-installed on most smart phones. You can make sketches, mark up PDFs, and even sign contracts, and through iCloud, all your iOS devices update instantaneosly. Avoid on iOS.
Lecture Notes (4.27): This app lets you take freehand notes on your device, so if you prefer taking notes that way, this could be the perfect app for you. You can do a trial of it before purchasing, to make sure you like it. And it looks like it is on sale every now and then. Right now, it's 40 percent off! Available on Android.
Kindle (free): Even if you don't have a Kindle device, you can still download books (and textbooks) that are meant for Kindles and view them on your mobile device or computer. We downloaded quite a few of our books from classes on the Kindle, and it was nice to always have them on hand, even when we didn't have our Kindle. You can also download PDFs to your Kindle, which can be rather helpful. Available on iOS and Android.
Fun
YP Local Search and Gas Prices (Free): I stumbled across this Yellow Pages app awhile back, and have loved it ever since. It can help you find just about anything you are looking for in your area. My favorite feature is that, if you are a craving a particular food item (say, Philly Cheesesteak) you can type that food in, and almost instally you will see a list of nearby restaurants that have that food, as well as ratings. This app also helps you find the cheapest gas prices in the area. If you aren't familiar with an area, this can be very helpful. Available on iOS and Android.
Groupon (free): Groupon can be the best friend of someone who wants to have fun on a budget (and what college student isn't?!) Being able to have the mobile app allows you to avoid going to the trouble of printing off a voucher, as the voucher loads straight to your phone. You can also purchase vouchers from your phone, so if you are somewhere without a computer and looking for something fun to do or eat, you can purchase a voucher immediately. Available on iOS and Android
How to Cook Everything Essentials (free): If you need some help navigating the kitchen or finding easy recipes, first, read this post, and then download this app. It has 100+ cooking essential tips and recipes, that any college student will appreciate it. If you love it enough, you can download the paid app, How to Cook Everything. Available on iOS
Candy Crush Saga (free): Yes, laugh all you want. I am one of those annoying people on Facebook who sent requests for lives on this game (though, in my defense, I only send it to be people who the game claims play it.) I think that every now and then, you need a break from studying, and having a fun game like Candy Crush to de-stress with can be helfpul. Just don't get too addicted — believe me, it's easy to do! Available on iOS and Android.
Learning and Education
Flash Card Apps: I'm pretty sure the only reason I made it through my last two classes was because of using online flash cards. I used Quizlet, which is awesome, since other students who had taken the same class previously created study sets. Quizlet has an app for iOS devices, and I loved being able to study in my spare time, even when I wasn't at a computer. StudyBlue is another awesome flash card app, where you can use it both on your computer and on your mobile device.
Duolingo: Whether you are learning a foreign language or not, this is a neat app to have. It helps you to learn a variety of different foreign languages, and it even fails you if you don't pass the tests. If you are in a foreign language class, this can be a great way to put what you are learning to the test, and study on the go. It's totally free, and apparently is "scientifically proven" to help people learning languages. I just tried it out, and it's rather fun! Available on iOS and Android.
iHomework (1.99): This is a simple app that keeps track of assignments, tests, and classes. It has great reviews, and several people claimed that it turned out to be a huge life saver. Available on iOS
Graphing Calculator: Remember having to buy your first graphic calculator in high school, and thinking how expensive it was? Well, now you can get a fully functional graphic calculator on your phone! Forrest used the one I listed below for iOS devices, and loved it. You may not totally be able to get away with using your phone on a test, but I know a lot of testing centers will lend our graphic calculators. This is a great way to save some money for your math classes, especially if you can't find your old graphing calculator (or maybe that's just me.)
Graphing Calculator by Mathlab (free) – Android
Graphing Calculator (1.99) – iOS
GPA-ME (1.99): Have you ever tried to figure out your college GPA by hand? It's rough. Or maybe that's just me. Either way, this is a neat little app if you obsessive about your GPA, like me. There is also a website that goes along with the app, in case you don't have an iOS device. Available on iOS.
Shopping and Saving
Amazon Mobile (free): If you use Amazon a lot to buy things, definitely download this app. I've used it in stores to see if Amazon has a cheaper price (just scan the barcode of the item you are checking out) and to make purchases on the go. Available on iOS and Android
Amazon Student (free): If you are subscribed to Amazon Student, then you definitely want to download this app. It was created to be specifically tailored toward students, focusing on the items students buy most — textbooks and electronics. Available on iOS and Android
Mobile Wallets: I've seen different mobile wallet apps popping up everywhere, and quite frankly, I think it is an excellent idea. I can't tell you how many times I left my wallet at home, or certain cards went missing. These apps allow you to have your credit cards, membership cards, and more organized and can be accessed easier. I've seen quite a few stores, gas stations, and even public transportation systems that are using machines that accept mobile transactions.
Lemon Wallet (free) – available iOS and Android
Google Wallet (free) – available on Android
ISIS (free) – iOS and Android, but only works in Salt Lake and austin
Apple e-wallet (9.99) – iOS
Mint.com Personal Finance (free): We've used Mint.com to manage our finances in the past, and it's a good way to keep track of your bank accounts, spending, and more. The mobile app is handy. – iOS and Android
Venmo (free): Are you ever in charge of collecting the utility money from roommates, or want to split a bill for dinner, but no one has cash? Venmo is a great way to instantly transfer money to others quickly. You can also send invoices to others, just in case you need to remind a forgetful roommate of money they owe you. There is a small fee associated with using Venmo, but I think it is totally worth it. Available on iOS and Android
Upromise Mobile (free): Created by Sallie Mae, this app goes along with the website Upromise. It's basically an easy way to save money for college. You set up an account, and by making purchasing at places you shop every day, you get a certain percentage put in your account to go towards college expenses. More than 900 online stores, 10,000 restaurants, and 21,000 grocery and drug stores participate. I recently started using this to save up for Jack's college, and I think it's awesome. Available on iOS and Android.
Ibotta (free): This app literally pays you to shop. Ibotta has partnered with popular stores (like Target and Costco) to give customers cash back for purchasing certain products. Basically, you go into the app, select which item you are going to buy, and there are certain tasks to complete — the more you complete, the more cashback you get. The tasks are simple — reading a recipe, learning a fact about the food, or sharing with a friend. And the items that are listed on Ibotta aren't weird, obscure products that no one buys — they are actually items that most people (including college students) buy on a regular basis. Available on iOS and Android, and if you love me (or, at best, tolerate me,) sign up through my referral link here.
Shopkick (free): This is another great way to earn rewards for doing your regular shopping. You just check-in at participating stores, and you get points for every time you go. Those points are converted into gift cards, and viola, you get money for going to Target a million times! iOS and Android